Is the calculation of Lumens putting you off using an outdoor projector? You are not the only one. You would think in a world of sophisticated technology, we could buy an outdoor camera, and Lumens would be automatically adjusted to experience the best possible from the camera.
Everything seems to be about lumens and has nothing to do with the ease of watching.
The good news is it's not as problematic as you probably thought. If I'm honest, the whole Lumen thing is an annoyance that we could do without. Not all of us are tech geeks or want to be.
So, let's try to keep things simple and lift the veil of Lumens.
What Is the Significance of a Lumen
Keeping things simple, a lumen is a measure of brightness. You may compare this to buying a 20-watt bulb to a 100-watt bulb. The 100-watt bulb is brighter, and it's not twice the brightness because the Lumens scale is not linear, but it is brighter.
There are many tables and charts for you to look at online, and if you can remember anything about them after ten minutes, you are a better person than me.
Like you, I'm not concerned about Lumens, and I am concerned about the picture quality of my outdoor projector.
You see, there needs to be an optimal range from my projector. I don't want to watch a movie outside with my friends in the pitch-black darkness.
I imagine that's not the best viewing experience for anyone stumbling around in a strange garden, tiptoeing through the flower beds, and finding the bathroom.
So what I need is something for ambient light. I need enough Lumens to have a sharp image that is clear and visible to everyone without the risk of tripping over the cat.
So, now we know Lumens have to do with brightness. The fewer lumens you have, the less likely you will be able to see a clear image on a screen in ambient light.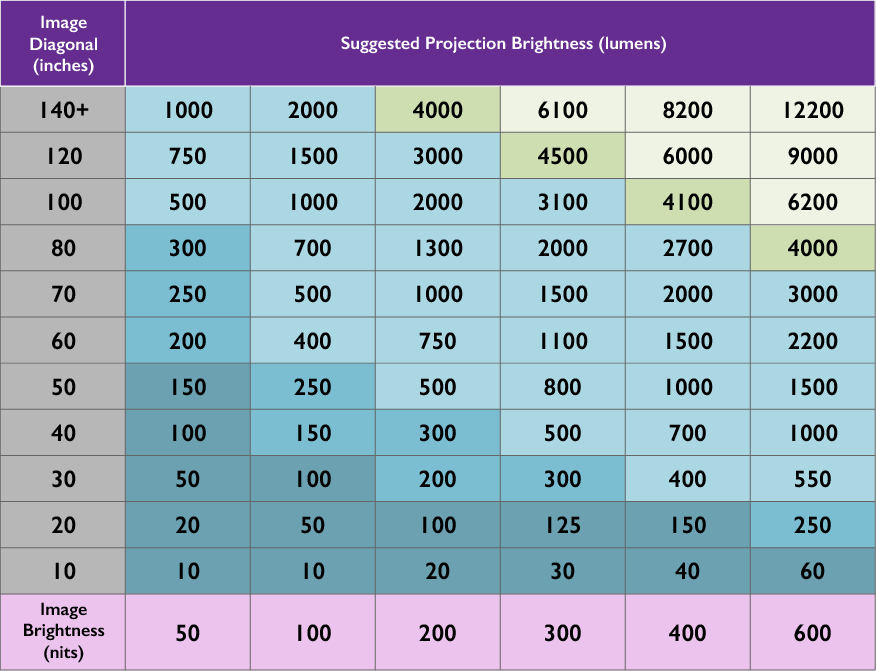 How Many Lumens Do I Need To Get the Most Out of My Projector?
If I am frank with you, you probably don't need to be concerned about Lumens for your backyard movie set up.
Most projectors have ample Lumens to do what you want and give a pleasurable experience unless…
You have an older projector. Bulbs lose some of their Lumens as they age, and now is when Lumens will become a critical issue for you.
Using a bulb with insufficient Lumens will provide you and your friends with a less than perfect viewing experience.
There are some other factors to consider when we talk about Lumens. You can see from the table below that screen size is an essential factor when choosing the correct Lumens.
| | | |
| --- | --- | --- |
| Screen Size | Minimum Lumen Needed | Ideal Lumens Needed |
| 9×5 foot | 1,500 | 2,300 |
| 12×7 foot | 2,300 | 3,000 |
| 16×9 foot | 3,000 | 4,500 |
| 20×11 foot | 4,500 | 7,500 |
| 25×14.5 foot | 5,000 | 10,000 |
| 40×22.5 foot | 5,500 | 12,000 |
So, the conversation about Lumens gets a little more exciting and relevant when it comes to screen size.
Additionally, scream material is essential. If you think you can take a white sheet of your grannie's bed and that will do the job, think again.
Your screen material and ambient lighting, together with the age of your bulb and existing Lumens, are all contributing factors to the performance and viewing pleasure of your backyard movie setup.
If you are not using the latest in technology, there are calculations you will need to make. But, once you have it right, the experience should be worth the effort.
Let's Briefly Talk About Foot Lumens
Foot Lumens is a standard used in the movie industry to ensure the picture you view is bright and clear. They are also referred to as Foot Lamberts.
There is a standard that is acceptable for viewing a movie on a screen. This range is from 12 to 22 foot-lamberts, confused?
For example, that may be close to where your actuals are if you are viewing on a 16 x 9-foot screen that equals a total of 144 square feet of the viewing area.
So, if you use 2000 lumens divided by the screen size, this will equate to 13.9 feet, which falls within the industry standards. The optimum Lumen range calculates at 2.304 for this size of the screen. But, what's 304 Lumens between friends!
It's not that complicated, just a little tiresome for some of us who want an easy life during our leisure time.
But never fear, cine projectionists are not noted for their Ph.D. 's. You can do it, and once done, it will never need to be repeated unless you move house!
Because backyard movie-set-ups are not trying to be artful cinema, these quick calculations should see you through but, there are other variables, including the moisture content of the air on that particular day.
Knowing the basics of the calculations will get you very close to where you would like to be. Still, the best idea is to deal with a knowledgeable retailer who can guide you through the process and give you the optimum for everything you need like ambient light conditions,m screen material, and size.
If you are using an old bulb, you may fall and stumble. It's no big deal, change the bulb and run at slightly over you have calculated building in a margin for error.
The Bottom Line
The thought of having your buddies and their families over to watch movies on a summer evening is a great idea and social event that will be enjoyed and remembered by everyone.
Some basics are better to know. If you know these basics, you can tweak your system until you have the ideal viewing experience. With the correct screen and ambient lighting, there is no reason why you can't have a professional outdoor experience.
A good projector retailer will be able to guide you through the pitfalls of setting up a movies theater in your backyard and make the experience pleasurable for you and the whole family.